New UCF helmet revealed?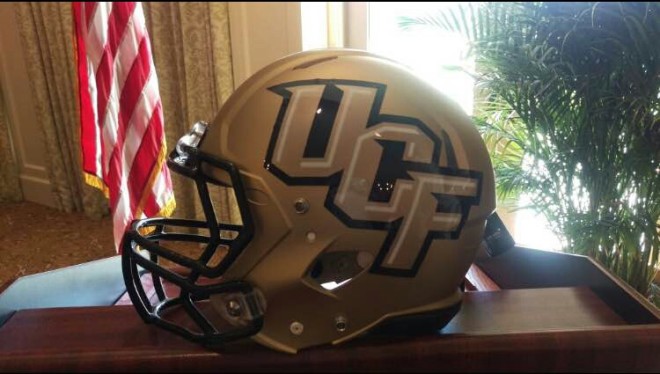 We don't know when UCF will be ready for a complete unveiling of their new Nike football uniforms, but we got a sneak peek on Thursday.
A photo of a helmet - matte gold in color and featuring the stacked UCF logo stretched across the side - made its way to the Twittersphere and eventually the Dungeon message board.
It's very real. Scott Frost brought the helmet to a morning fundraiser on campus and explained to the crowd that it was one of four they'll have in rotation this season. Other helmet colors are said to be white, black and pewter.
Sources told UCFSports.com the helmet on display was a prototype and may not reflect the finished product, but it's at least a hint of what's to come.
And here's another fun fact revealed on Thursday. Frost told the crowd Nike makes exclusive designs for two schools now: Oregon and UCF.
Frost added they'll have flexibility with switching out decals on helmets. Since decals are relatively cheap to produce, that could lead to all sorts of custom combinations. In addition to the traditional stacked logo options, maybe we could see helmets with the Knightro logo plus throwback versions of the 1980s "State of Florida" logo or even the Citronaut. That's all speculation on my part, but I think it's clear we'll see much more creativity with the new leadership.
Just like the helmets, we're hearing UCF will have four different jersey and pant combinations in black, gold, white and gray/anthracite. And yes, names are coming to the backs of jerseys.
Maybe a reveal happens before then, but it's likely jersey samples and helmets will be on display when UCF embarks on their "Charge On Tour" next month with scheduled stops in Orlando, Cocoa, Tampa, Jacksonville, West Palm Beach and Fort Lauderdale.

***UCFSports.com offers the most comprehensive coverage of the Knights that you can't find anywhere else. Get breaking team and recruiting news, in-depth interviews from practice and games plus access to the popular Dungeon message board. Give us a try with a 30-day free trial using Promo Code UCF30.